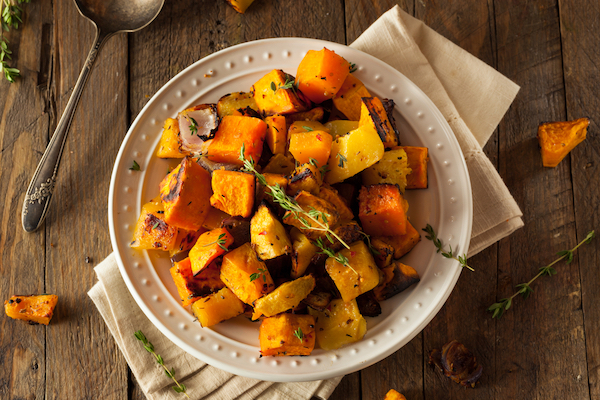 The leaves are changing and our cravings switch from cooling foods to warm and nourishing foods. This delicious nutrient-packed side dish that compliments any meal or is great on its own. The roasted root vegetables get caramelized in the oven for a yummy treat. I always make extra and have them for lunch the next day, as well.
Ingredients
1 rutabaga, peeled and cut into 1-inch pieces
3 turnips, peeled and cut into 1-inch pieces
3 parsnips, peeled and cubed
1 butternut squash, peeled, seeded, and cubed
3 carrots cut into 1-inch pieces
1 large sweet potato, peeled and cubed
1/4 cup extra virgin olive oil
Sea or kosher salt and pepper to taste
Directions
Preheat the oven to 450F (230C).
Place the chopped root vegetables into a large mixing bowl. Drizzle with olive oil, and toss until well coated. Season with salt and pepper.
Place the vegetables into a deep roasting pan and roast for about 45 minutes, or until the vegetables are tender.
Stir once about halfway through cooking.
Feel free to add rosemary, garlic, or any other spices to this dish.
Enjoy!