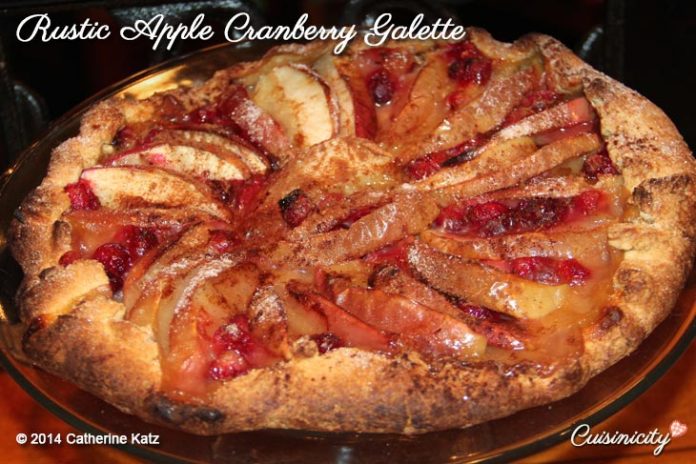 Here is a variation on my rustic galette with apples, fresh cranberries and a sprinkle of cinnamon! I also make it with fresh plums, apricots, peaches, cherries, you name it. Galettes are a crusty free-form versions of those more sophisticated tarts or pies. They are more rustic and a little rough around the edges, so you can just eat a slice with your hands-no need for forks here. While traditional galettes are made with plain white flour and lots of butter. I've developed a version true to Cuisinicity's nutritional standards that also stacks up to the taste of the butter-laden traditional French recipes.
Ingredients
Dough:
11/3 cup whole wheat pastry flour
½ cup confectioners' sugar
1/3 cup room temperature Organic Smart Balance or Melt Organic
1 tsp vanilla extract
3 cage-free egg yolks
Filling:
1 Tbsp Organic Smart Balance or Melt Organic
1 Tbsp almond meal/flour
1 Tbsp confectioners' sugar
1/3 cup unsweetened applesauce
1 cage-free whole egg
Topping:
1 large apple, rinsed, cored and sliced into thin wedges (unpeeled)
1/3 cup fresh cranberries, rinsed
1 Tbsp granulated sugar
Sprinkle of cinnamon (about ¼ tsp)
Instructions
Preheat oven 400F.
Dough:
Sift the flour and confectioners' sugar and place into the bowl of a food processor ( you can also make it with your hands).
Add the vanilla and butter replacement of your choice and pulse 3 or 4 times for a 8-10 seconds each until crumbly.
Add one egg yolk at a time, each time pulsing for a few seconds until the dough just starts to come together. Don't over-beat.
Gently take out the dough and form into a ball.
Wrap in cellophane and set aside until ready to assemble (there is no need to refrigerate so it's best to make it right before you are ready to assemble).
Filling:
Place 1 Tbsp butter replacement in a small microwavable dish and cook on high for 3 or 4 seconds.
Add applesauce, confectioners' sugar, almond meal, and egg and stir well with a spoon until thoroughly mixed.
Assembling:
Place the dough between two 10″ gallon storage bags and using a rolling pin, gently roll into a circle about 10 inch in diameter. Remember, it doesn't need to be perfect.
Peel off the top storage bag layer, then turn dough over and transfer onto a lightly floured baking sheet. Peel off second storage bag.
Spread the filling evenly over the dough to within ½ inch of the edge.
Arrange the apple wedges on top side by side in one layer, like a pinwheel, add the fresh cranberries between some of the apple slices.
Fold the edge of the dough up over the apples to create a 1-inch border.
Sprinkle the granulated sugar on top of the apples, cranberries and folded edge.
Sprinkle with a little cinnamon.
Bake in preheated oven for 25 minutes or until the apples are tender and the crust is golden.
This recipe originally appeared on Cuisinicity.com.