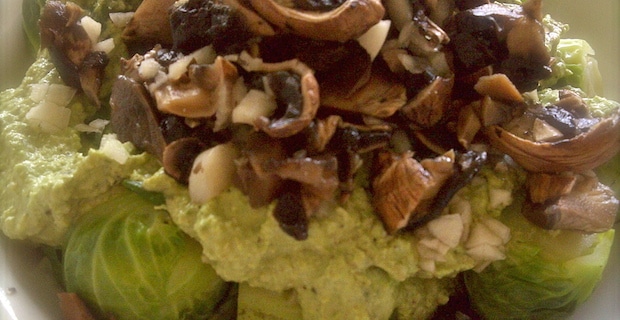 I have a new love for Brussels sprouts… Brussels sprouts with Spicy Lemon Pesto Sauce that is! This dish is packed with vitamins, minerals, antioxidants, bioflavonoids and other cancer-crushing nutrients. Not only is this dish super healthy, but it has some serious flavor!
Ingredients:
2 cups Brussels sprouts
1 cup mushrooms
2 cloves garlic
¼ cup sunflower seeds
½ cup fresh basil
2 tbsp olive oil
½ large lemon, squeezed and peeled
2 tbsp Almond Breeze original almond milk
2 tbsp sauerkraut juice
½ tsp black peppercorn
paprika powder, to taste
cayenne powder, to taste
Read more unique pesto recipe ideas
Directions:
Steam Brussels sprouts for 10 minutes. Meanwhile, in a blender add: sunflower seeds, basil, olive oil, lemon juice and lemon peel (graded), almond milk, sauerkraut juice, black peppercorn and a dash of paprika and cayenne powder. In a small pan with water cook the mushrooms and garlic until tender. Dice a clove of raw garlic and leave it to the side. Once Brussels sprouts are done, place on a plate and add pesto and raw garlic – if you dare! Top it all off with the cooked mushrooms and garlic. Enjoy!