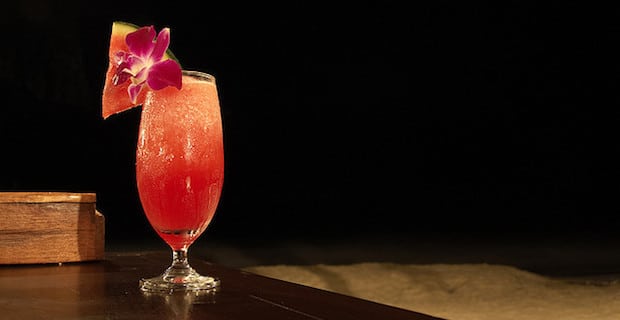 It's watermelon season once again. You're likely finding them at the farmers market or maybe you're lucky enough to grow them yourself. Either way, watermelons spell summer and this spicy watermelon juice recipe is no exception. It's sweet, spicy, cooling, and hot all at the same time. Get your day started right or mix in a shot of vodka for a happy hour twist.
Read more about the health benefits of watermelon
Spicy Watermelon Juice Recipe
Serves 4
1 seedless small watermelon peeled, chopped
2 cup coconut water
1 half jalapeno, seeded, ribs removed
Directions:
1. Slice a base on the top and bottom of the watermelon to stabilize it. Once the watermelon is stabilized, use a large, sharp knife to remove the skin by running your knife down the side of watermelon.
2. Slice the watermelon down the middle and then chop into 3-inch cubes. Fill a blender with chopped watermelon and add in enough coconut water to reach half way up the pitcher. Add in a teaspoon of jalapeno. Blend until it's a juice. Add more coconut water to ensure that it actually combines into a juice.
3. Strain through a nut bag by placing the bag in a bowl and then pouring the contents through. Nut bags are used to make homemade almond and soy milk but they also allow you to make your own juices without a juicer. You can purchase them online for about $10 or at your local health foods store.
Read more about ways to stay hydrated besides water
4. Serve immediately garnished with refreshing mint. If you want the juice to be thicker (more like a smoothie) don't strain it through the nut bag. If you want it to be frosty, peel and chop the watermelon and freeze. Blend with frozen watermelon pieces. To make a cocktail, add 5 ounces of watermelon juice and 1 ounce of vodka to a shaker. Shake vigorously and serve in a martini glass garnished with a rim of salt or sugar.
Image: Taku