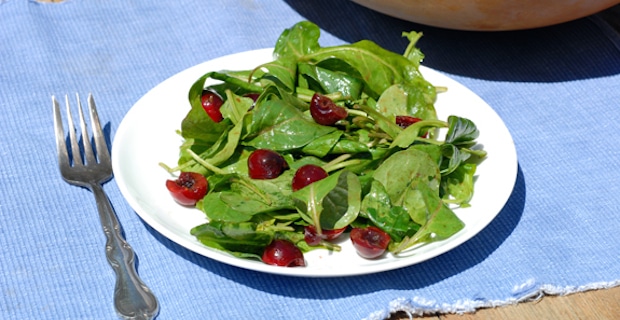 Enjoy the cleansing and digestive goodness of aloe vera in a new way! A sweet raspberry vinaigrette dressing that incorporates aloe vera makes for a unique spin on a classic dressing. Paired with bitter greens, this salad is a powerhouse of digestive health well-being.
Ingredients (Salad)
• 3 cups fresh baby spinach
• 1 endive, chopped
• ½ head escarole, chopped
• handful arugula
• ½ small radicchio, chopped
• handful watercress, coarse stems discarded, leaves chopped
• ¼ cup fresh mint, chopped
• 1 large ripened heirloom tomato, sliced
Read more about the many benefits of aloe vera
Ingredients (Dressing)
• ½ pint raspberries
• 2 tablespoons Lily of the Desert Preservative-Free Aloe Vera Juice
• 2 tablespoons extra-virgin olive oil
• 1 tablespoon minced shallot
• 2 teaspoons white balsamic vinegar
• coarse salt and ground pepper
Directions
Wash all the greens and toss them into a large salad bowl. In a mixing bowl, whisk together aloe juice, extra-virgin olive oil, minced shallot, vinegar, salt, and pepper.
In a separate bowl, roughly mash raspberries with a fork. Pour dressing mixture over berries, stir together, and let sit in the refrigerator for up to 2 hours to let the flavors blend.
Before serving the salad, take dressing from the refrigerator, give it one last whisk, and serve over bitter greens!  Serves 4.
Recipe courtesy of Lily of the Desert

Image: Elana's pantry
More salad recipes:
Pomegranate and Beet Salad with Grapes and Blue Cheese
Keto-Friendly Purple Power Salad
Sensational Strawberry Spinach Salad Recipe
DISCLAIMER: This article contains affiliate links, which means that if you click on one of the product links, Naturally Savvy will receive a small commission so we can keep pumping out amazing articles like this one. Thank you so much for your support!