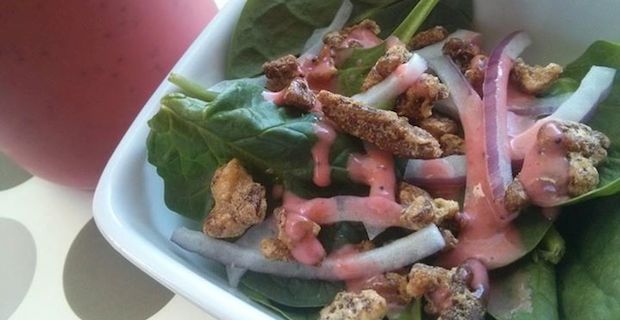 For those of you with a sweet tooth, this is a great way to incorporate some sweetness into a typically savory meal. The candied pecans add a boost of protein to your salad, and also make a great addition to trail mixes. Add the dressing and pecans to spinach, sliced red onion, and any other veggies you like. Mix well and enjoy!
Strawberry Poppy Seed Dressing
1 lb strawberries
1/2 cup Maison Orphée grapeseed oil
1/4 cup+ raw honey
3 tbsp Maison Orphée balsamic vinegar
3 tbsp Maison Orphée apple cider vinegar
2 tsp poppy seeds
1 tsp pink Himalayan salt
Directions
Blend all ingredients except oil. Once smooth, slowly pour in oil while blender is still running.
Read more about the health benefits of strawberries
Candied Pecans
1 egg white
3/4 cup organic light brown sugar
1 tsp vanilla extract
1/8 tsp pink Himalayan salt
Directions
With a hand mixer, blend egg white till foamy. In a separate bowl combine remaining ingredients. Stir in egg white. Grease cookie sheet and spread out nut mixture. Bake at 275 F for 45 mins.
Chef's Note: For a chocolaty treat add in some raw cacao powder before baking — makes a great snack too!
Read more about the health benefits of nuts