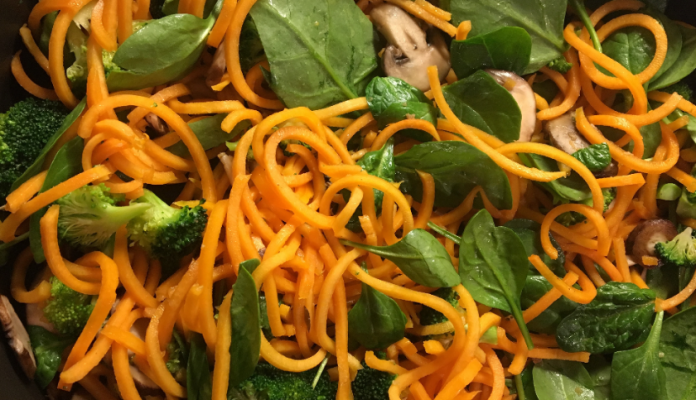 If your kids are anything like mine they love noodles. Whenever we go out for Chinese food they always want the fried noodles and vegetables though I think they end up eating more of the noodles than the vegetables. I get so frustrated with the kids just eat the noodles and don't the rest of the meal.
At home we have several different kinds of noodles–the typical pasta-type noodle, rice noodles, soba noodles, udon noodles and now I have added another one–squash noodles. I decided to buy spiralized squash noodles at the grocery store. I can probably make them myself with my mini spiralizer but these looked so easy and tempting.
Everyone loves the taste of noodles with peanut sauce in our house whether it be with rice noodles or soba noodles. However, this time I decided I would make it with squash noodles. At least I would be reassured they were eating the vegetables ??.
Ingredients:
1 package spiralized squash – this came in a clear plastic container found in the fridge in the produce section.
1 clove garlic
1 tsp ginger
1 tsp coconut oil [from Lily of the Desert, Now Foods or Barlean's]
Sauce:
3 tbsp peanut butter
1 tbsp San-J tamari
1 tbsp honey
Juice from 1/2 lime
1/4- 1/2 cup of water depending on how thick you like your sauce
Vegetables:
1 cup sliced mushrooms – my kids picked them out
2 cups spinach leaves
1 cup broccoli florets
Directions:
1. Saute garlic and ginger in coconut oil until fragrant.
2. While these are cooking prepare the sauce. Using a hand blender puree the sauce so it is smooth and thick.
3. Add mushrooms and broccoli to pan with garlic and ginger. Or use vegetables your kids like. Once vegetables have started to soften, add the squash noodles and spinach and simmer for a few minutes.
4. Pour in the peanut sauce and heat through. That's it!
This is really a quick dinner time solution.
Let me know what your family thinks in the comments below.
This post originally appeared on Nutrilicious.ca.