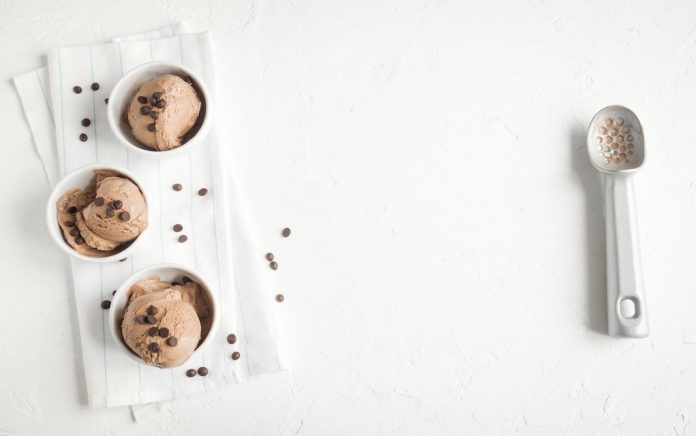 This healthy, keto friendly ice cream tastes just like the real deal and is super easy to make.
With Summer already started and super-hot days lining up you want to make sure you get on to this recipe quick. Don't you agree, it's always a good idea to have ice cream ready to go in the freezer when you feel like you need to cool off. The best bit is, when you do start craving a refreshing summertime treat you can enjoy this ultimate peppermint chocolate chunk ice cream guilt free as it's surprisingly good for you. Full of quality fats, loaded with protein and zero sugar you will notice you will only need a little to feel completely satisfied.
Serves: approx. 12
Ingredients you will need
2          Cup                 Heavy cream
2          Cup                 Coconut milk
½         Tsp                 NowFoods Monk fruit sweetener, (adjust to taste)
1/3       Cup                 Raw cacao powder
6                                 Eggs; well-beaten
¼         Cup                 Raw cacao nibs, (or keto friendly chocolate chips)
2-6       drops               Peppermint oil, (quality food grade oil, adjust to taste)
Instructions with ice cream maker
Bring cream and coconut milk to a simmer in a large heavy saucepan.
Add the monk fruit sweetener and cacao, stir until sweetener dissolves. Remove from heat and set aside to slightly cool.
Crack the eggs into a large mixing bowl and beat well.
Gradually whisk 1/2 cup of the chocolate/cream mixture into eggs. Return mixture to the saucepan and stir over medium-low heat for 10-15 minutes or until mixture thickness and coats the back of a spoon.
Strain into a bowl and allow to cool the mixture completely, stirring often. Stir the cacao nibs and peppermint oil into the mixture.
Pour into a 1-quart ice cream maker and freeze according to manufacturer's directions.
Once done store in a covered container in the freezer. If ice cream is frozen solid, soften in the refrigerator before serving.

Instruction without ice cream maker
Firstly reserve the cacao nibs, (choc chips) and set aside until the last step (you will not add them to the mixture before you freeze).
Pour mixture into ice cube molds and freeze until solid, approximately 3 hours.
Remove the cubes from their tray and place in a high-speed blender or food processor and blend until creamy. You may need to do this in batches depending on how big your blender/processor is.
Fold through the cacao nibs (choc chips) and then transfer the mixture to a large freezer-safe container.
Cover and place in the freezer for around 3 hours or until ice cream is ready.
Read This Next: Easy Keto Baked Avocado Fries with Spicy Mayo
DISCLAIMER: This recipe contains affiliate links, which means that if you click on one of the ingredient links, Naturally Savvy will receive a small commission so we can keep pumping out amazing recipes like this one. Thank you so much for your support!