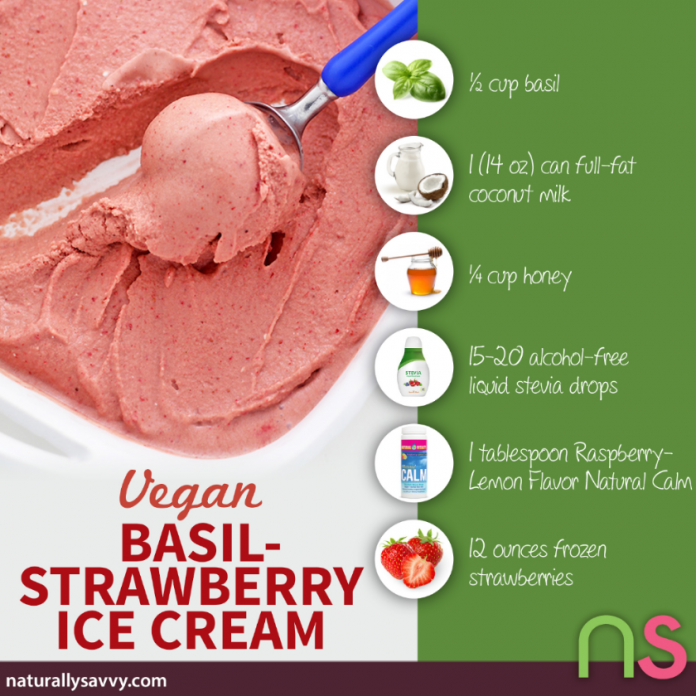 Did you know that July is Ice Cream Month? With the summer heat climbing there is no better way to cool down than with some delicious home made ice cream. If you are avoiding dairy and are working to stabilize your blood sugar, this is a perfect treat. An added bonus is you don't need an ice cream maker.
Prep time: 1 hour +
Serves 2-4
Ingredients
1?2 cup basil, chopped
1 (14 oz) can full-fat coconut milk
1?4 cup maple syrup or honey
15-20 alcohol-free liquid stevia drops (optional)
1 tablespoon Raspberry-Lemon Flavor Natural Calm (optional)
12 ounces frozen strawberries
Directions
Add basil, coconut milk, maple syrup or honey and liquid stevia (if using) to a blender. Blend until smooth.
Stir in the Natural Calm (if using). Pour mixture into an ice-cube tray and leave in the freezer overnight.
Once frozen, add the coconut milk ice cubes to a food processor, along with the strawberries, and, scraping down the sides as necessary, process until the mixture is smooth and the consistency of soft-serve.
Serve as is, or freeze for an additional hour until the mixture is firm, then scoop and serve.
This recipe originally appeared on Natural Vitality.