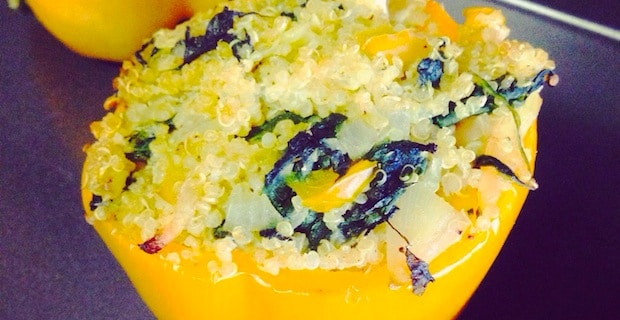 My family was looking for a break from meat and so I decided to whip up a delicious vegetarian dish. What started as a way to increase our vegetable intake and give our digestion a break turned into an amazingly delicious (and new favorite) dish. This recipe is not only delicious but loaded with a lot of health benefits. From protein-packed quinoa, potassium-rich spinach, and liver-loving onion, cauliflower, and lemon it's got a lot going on… in a good way!
Ingredients
1 cup uncooked quinoa
2 cups organic vegetable stock
½ tsp chili powder
½ tsp coriander
6 bell peppers
1 onion, diced
1 zucchini, diced
½ a cauliflower, florets only
¼ tsp paprika
½ tsp organic sriracha sauce
3½ cups spinach, chopped
zest of 1 lemon
salt and pepper, to taste
4 oz. organic goat cheese (I used an herb variety)
Read more about reasons to give Meatless Monday a try
Directions
In a large pot combine quinoa, stock, chili powder, and coriander. Bring to a boil and simmer with a lid for 15 minutes. Stir occasionally until the quinoa is cooked and liquid has disappeared.
While the quinoa is cooking cut the tops off the peppers and dice. Dice the onion and zucchini and grate the cauliflower florets so they slightly resemble rice.
In a large skillet, sauté peppers and onions with 1 tbsp olive oil until slightly soft, about 5 minutes. Add zucchini and cauliflower along with paprika and Sriracha, sauté another 5 minutes. Add spinach and stir until wilted. Season with salt and pepper. Add sautéed vegetables to the cooked quinoa and toss to combine. Add the zest of one lemon and goat cheese. Toss to combine.
Stuff peppers with filling and stand up in a baking pan (one with raised sides). Loosely cover with tin foil and bake at 350 for 20 minutes. Remove foil and bake another 8-10 minutes, until peppers are slightly softened. Enjoy!
Sign up for our newsletter:
DISCLAIMER: This article contains affiliate links, which means that if you click on one of the product links, Naturally Savvy will receive a small commission so we can keep pumping out amazing articles like this one. Thank you so much for your support!
Image: Deanna Harris