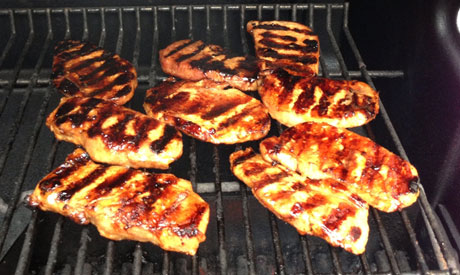 Marinade:

In a pot add the following:

1/4 cup fish sauce

1/4 cup soy

1 teaspoon of minced or crushed garlic

1 cup of sugar (I use NOW Real Foods Erythritol)

1 teaspoon white pepper
Bring contents to a boil and simmer until sugar (Erythritol) dissolves. Remove from heat and place in a bowl that can be sealed. Add 2 tablespoons of water and place in the fridge to cool.

Use 2 regular packages of cubed tenderloin or 3-4 steaks cut into manageable bite sized pieces (make sure they are large enough for the grill).
Marinade beef from as little as 30 minutes to up to 5 hrs.

For Lemongrass pork use 1 cup of the same marinade , but add the following items in a mixing bowl:

2 tablespoons oil

1 teaspoon of minced Lemongrass

1 tablespoon rice wine vinegar

1 teaspoon crushed red chilies

1 tablespoon soy
Mix and marinade also from 30 mins to 5 hrs