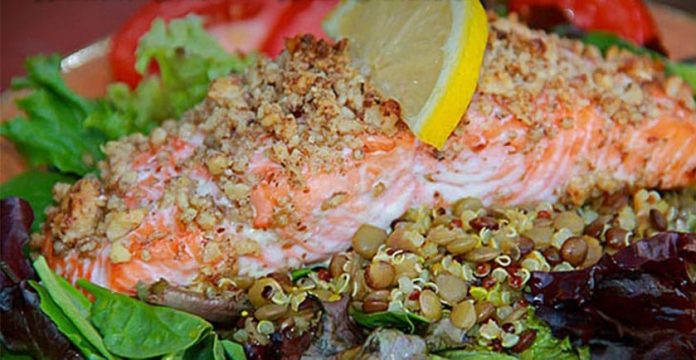 The power couple, Cuisinicity style: Wild salmon + walnuts = highly nutritious + totally delicious! This is such an easy recipe. It definitely passes the test for my "Simply Recipe" collection – it has all of 2 ingredients! You just dredge the salmon with ground walnuts and throw on top of a rack (any simple cooling rack placed on top of a baking sheet will do!) in a hot oven and cook for 20 minutes and you are done! No fishy smell in the house, only the wonderful aroma of baked walnuts, how wonderful is that? I like to serve this salmon on top of a bed of quinoa and lentils and a mixed green salad with lots of local fresh veggies. It is so elegant and absolutely delightful on a beautiful platter for a holiday party, served with a side of my luscious "rich" Spinach Dip!
Serves 2
Ingredients
2 filets of wild salmon* (little less than 1 lb., the salmon filet should be about 1-inch thick and 1 1/2 inches wide with skin on)
1/2 cup walnuts, coarsely ground
Pinch of coarse sea salt
Fresh ground pepper
Directions
Preheat oven to 375º F. Salt and pepper the salmon. Place the ground walnuts on a plate and dredge the top of each slice of salmon with the walnuts. Add any remaining ground walnuts that did not stick to the top of each slice.
Place the salmon skin-side down on a rack (any simple cooling rack will do just fine!) placed on top of a baking sheet and cook for 20 minutes.
When ready to serve, use a spatula to lift the salmon off the rack (the skin will peel off and stay behind on the rack – perfect!)
Image, video, and recipe via Catherine Katz of Cuisinicity.com
More salmon recipes:
Orange Spinach Wild Salmon Recipe
Asian Spiced Salmon Recipe with Wasabi Mayonnaise
Sign up for our newsletter:
DISCLAIMER: This article contains affiliate links, which means that if you click on one of the product links, Naturally Savvy will receive a small commission so we can keep pumping out amazing articles like this one. Thank you so much for your support!