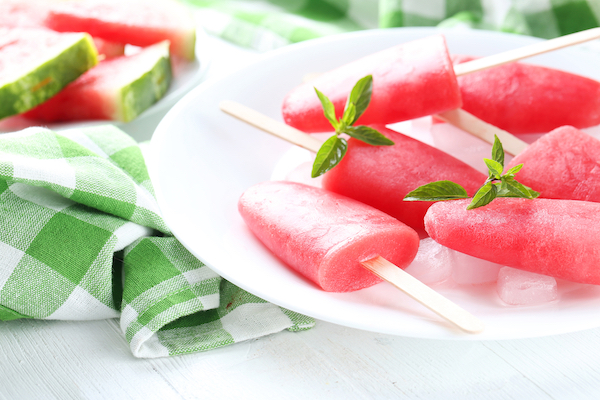 Perfect for the dog days of summer, these refreshing and hydrating watermelon aloe vera popsicles are low in sugar and a delightful treat. Aloe vera has many proven health benefits when taken internally and combining them with watermelon is amazing.
Makes 6 servings
Prep Time: 5 minutes + freeze time
Ingredients:
2 cups seedless watermelon, frozen + cubed
pinch salt
zest of 1 lime, optional
water, to thin out
Method:
Add all ingredients to a blender or food processor.
Blend until smooth, adding salt to taste.
Add a little water if the mixture is too thick.
Pour the slush mixture into popsicle molds or use an ice cube tray if you like.
Freeze overnight, then remove from the mold to enjoy.
More recipes:
Chocolate Avocado Fudge Pops Recipe
Berry Delicious Immune Boosting Popsicles
More about aloe vera:
14 Amazing Benefits of Aloe Vera
Why You Need Aloe Vera If You Have Heartburn or Indigestion
Savvy Swap Popsicles:
Sign up for our newsletter:
DISCLAIMER: This article contains affiliate links, which means that if you click on one of the product links, Naturally Savvy will receive a small commission so we can keep pumping out amazing articles like this one. Thank you so much for your support!