Tomato, Olive, and Basil Galette (Pizza) Recipe
Tomato, Olive, and Basil Galette (Pizza) Recipe The crust, made with white wine, white whole wheat flour and olive oil is so quick and easy to make, you can whip it up in less than 5 minutes-really. (Watch the video below to see how easy it really is.) I like to use a store-bought simple tomato marinara sauce, so that it's one less thing to fuss about. You can of course make your marinara sauce from scratch but I find that as long as whatever brand you use has no added sugar and has those few simple ingredients you would expect in a wholesome marinara sauce (tomatoes, extra virgin olive oil, fresh basil, onion, garlic, and salt), you'll be all set and can save yourself the time and hassle! This makes a wonderful little dinner with a great big salad and a glass of good wine. I also recommend it as an appetizer–great finger food! Note that I like to use gruyère cheese in this recipe because it has such a rich flavor so I can use it sparingly, only 1/4 cup. Feel free to pick your favorite, as long as you remember: a little goes a long way!
Serves 6 to 8
Ingredients
Galette Dough: 3/4 cup + 1 tablespoon whole white wheat flour 1/8 teaspoon salt 2 tablespoon olive oil 1/3 cup white wine
Topping: 1 medium ripe tomato, sliced 1 cup fresh basil leaves (loosely packed) 1/3 cup black Kalamata olives (pitted) 1/2 cup marinara sauce (store-bought with no added sugar) 1/4 cup gruyere cheese (or other flavorful cheese of your choice)
Directions Preheat oven to 400º F. Place the flour, olive oil, white wine, and salt in the bowl of a food processor and process until a ball forms (30 seconds). Don't worry if it's not a perfect ball, you can just gather it in your hands and roll it into a ball. Place a little flour in your hands to handle it gently and place it on a lightly floured surface.
Using a rolling pin, gently roll into a circle about 9 inch in diameter–it doesn't have to be perfect. Transfer onto a lightly floured baking sheet. Spread the marinara sauce evenly over the dough to within 1/2 inch of the edge. Add the sliced tomatoes, fresh basil, and olives and sprinkle with grated cheese. Fold the edge of the dough to create a 1-inch border. Bake in preheated oven for 20 minutes. Image, video and recipe via Catherine Katz of Cuisinicity.com
---
About the Author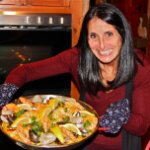 Catherine is the founder of Cuisinicity- Love the Food That Loves You Back, a website where good food and good health come together in a way that is feasible for today's busy families, as it has been for hers (Catherine and her husband, Nutrition expert Dr David L. Katz, have 5 children!). Catherine's recipes have been widely featured in national media, including ABC News, O Magazine, Eating Well, Prevention Magazine, Woman's World, Fitness, Shape, and many others. She is the co-creator of the Nutrition Detectives™ food label literacy program, now in use by thousands of schools all over the world and has collaborated in the production of other health promotion programming, including the Unjunk Yourself® music video program.