Natural Ways to Prevent, Delay, or Even Reverse Alzheimer's Disease
---
About the Author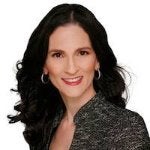 Founder and Editor-in-Chief of NaturallySavvy.com. She is passionate about living a natural and organic lifestyle and reading food labels. She is a mom to three beautiful children who love ground flaxseed & fish oil.
As a pioneer and visionary in the health food industry, Andrea Donsky's passion is to inspire people to make enlightened choices for healthy living. Andrea has combined her background and expertise as both a Registered Holistic Nutritionist, and an entrepreneur, to educate the public on living an organic and non-GMO lifestyle through the creation of her businesses, books, articles, videos, speeches, and media appearances. Among her numerous publications, Andrea co-authored Unjunk Your Junk Food published by Simon & Schuster, as well as two e-books entitled "Label Lessons: Your Guide To A Healthy Shopping Cart," and "Label Lessons: Unjunk Your Kid's Lunch Box."

Andrea Co-hosts Naturally Savvy Radio on RadioMD.com, a live show every Wednesday. She appears regularly as a healthy living expert on TV and radio across North America. Her segments have aired on all major networks including NBC, ABC, CBS, Fox, Univision, WGN, Better TV, City TV, CTV, CBC, and Global.