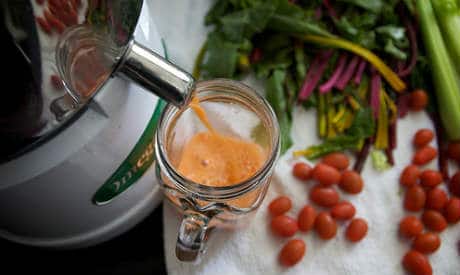 Juicing is one of the quickest ways to boost up your energy levels. A fresh-pressed juice first thing in the morning gives both your brain and immune system a healthy boost.
There are many easy and convenient recipes for juicing available from books and websites. Most juicing recipes start with a base of apple, carrots, or celery. Build on the base with ingredients you have on hand or with a certain goal in mind. For an energy boost, add greens such as kale, cabbage, and spinach. They're packed with chlorophyll and magnesium. To detox, add beets, lemon, and/or parsley. You can also add super-foods such as maca powder, a green powder, or green tea.
Juice recipes that include only fruit will send your blood sugar levels on a roller coaster ride, so add a little protein with avocado or protein powder.
The difference between a good juicer and an inexpensive one is the amount of juice it extracts from the vegetables and fruit that pass through it. A good juicer will leave the pulp almost dry, saving you money on produce in the long run. If you're going to juice daily, a juicer made by Champion, Omega, Jack Lalanne, or Green Power is a great investment.
Find recipes for juicing here
Related Content: What's Up, Doc? 6 Ways to Re-Connect With Carrots
Photo credit: Shutterbean