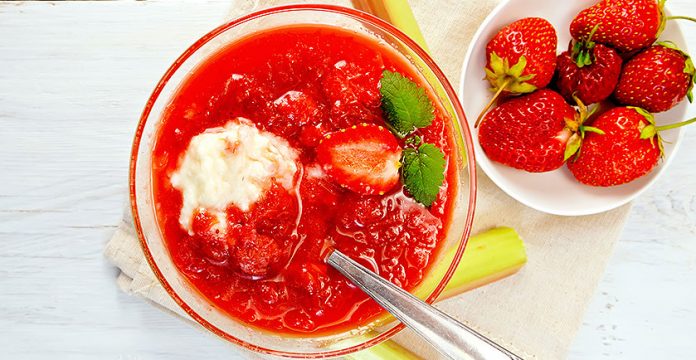 Strawberry Rhubarb Compote Recipe
This delicious, healthy dessert can be made any time of the year if you use frozen fruit. It is especially wonderful when rhubarb and strawberries are fresh and in season. Enjoy as is, mix with a bit of yogurt or add it to your morning oatmeal.
Serves 2 to 4
Ingredients
1 package frozen rhubarb, approximately one 8-ounce bag (sub in fresh if you have it)
3/4 cup frozen or fresh strawberries, sliced into halves or quarters
Purified water
Optional: Sweeten if necessary with your favorite natural sweetener
Directions Place rhubarb into saucepan on stove and add purified water (until covered). Bring to a boil, and cook until rhubarb is tender, approximately 10 minutes. Remove from stove and add chopped frozen (or fresh) strawberries. Sweeten to taste with your favorite natural sweetener. Serve once the strawberries have softened and the dish has cooled to room temperature or place in the fridge and enjoy it cold.