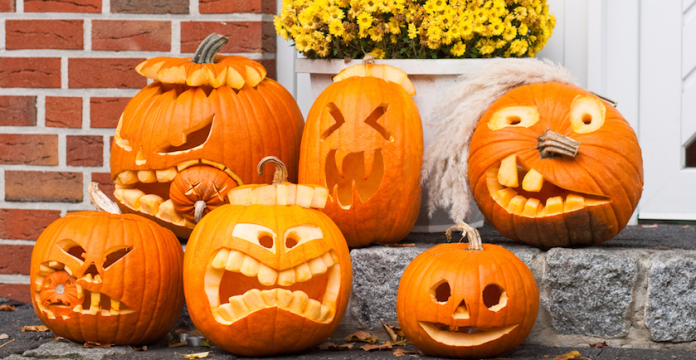 Once the last trick-or-treaters have wandered off into the night and you think about packing away your Halloween decorations, what happens to your pumpkins? That's a question lots of people ask themselves, but far too often they don't know the answer and end up tossing the orange veggie into the trash.
Stop! Says the good witch of post-Halloween. You have several options for how to use your pumpkin once the costume festivities are over. Which ones you choose largely depend on the condition of your pumpkins.
Make these Pumpkin Cinnamon Walnut Pancakes
Re-purposing an Intact Pumpkin
If you did not carve your pumpkin and there are no bruises, soft spots, or mold, you can either continue using it as a decoration or turn it into something delicious. Be sure to thoroughly wash the outside of the pumpkin with soap and water to eliminate any dirt, water colors, glue, and other substances.
1. Make pumpkin mash (puree).
Cut the pumpkin in half, remove the seeds and stringy portions, and set them aside. (Hint: See a pumpkin seed option below.) You can either boil, steam, or bake the pumpkin. Since boiling takes the least amount of time, that's the option here. While the water is heating to a boil, cut the pumpkin into about 4-inch by 4-inch pieces and peel. Add to the boiling water and cook for 25 minutes or until the pumpkin is soft when poked with a fork. Puree the pumpkin with a blender, mixer, or food processor or mash by hand. Mashed or pureed pumpkin can be used to make pumpkin pie, cake, muffins, cookies, frozen desserts, bread, soups, and more. You can store mashed pumpkin in an airtight container for up to six months.
2. Pumpkin face mask.
Pumpkin is good for you inside and out because it's rich in vitamins and minerals. So why not use it as a face mask? Combine 2 tablespoons of pumpkin mash with 2 teaspoons of brown or white sugar and a few drops of water or milk. Mix well and apply to your face with your fingertips using a circular motion. The pumpkin nourishes while the sugar exfoliates. Be a pumpkin face for about 20 minutes before washing it off.
3. Pumpkin seed pesto.
Sure, toasted pumpkin seeds are great, but why not try something different? Rinse the pumpkin seeds to remove all the pumpkin strings and insides and pat the seeds dry. Then combine all the following ingredients in a blender or food processor and pulse until it reaches the desired consistency. Enjoy the pesto on pasta, crackers, salad, or as a spread on a veggie sandwich.
1 cup pumpkin seeds
1/3 cup extra virgin olive oil
3-5 cloves garlic, minced
1 Tbs miso
2 Tbs nutritional yeast
3 Tbs lime juice
¼ cup fresh cilantro
What to do with an already carved pumpkin
If you have a carved pumpkin on your hands, it is not safe for eating, however, you can put it in the compost or find another use for this veggie such as the following:
1. Decorative pumpkin bowl.
Cut the top off of a carved pumpkin so the hole is large enough to insert a serving bowl or other container. Scoop out the pumpkin guts and seeds and put in the compost or reserve for wildlife (see below). Place a bowl or other container inside the pumpkin and use it as a decorative serving dish or for foliage.
2. Feed wildlife.
Chop up a carved pumpkin for visiting wildlife and watch the show from your window. Separate the seeds and strings for the birds if you desire.
Read more about the nutritional benefits of pumpkins seeds
3. Outdoor planter.
This idea is similar to the decorative bowl or vase, but instead fill the scooped out pumpkin with soil (you may need to cover up any holes to prevent the dirt from falling out) and place your favorite fall plant inside to display on your patio or in your yard.
4. Pumpkin potpourri candle holder.
Cut the top off a carved pumpkin and clean out the inside until there is about 1 inch of pulp around the entire interior of the pumpkin. Rub the pulp with ground cinnamon and/or ginger and place a few pieces of cloves into the inside of the lid. If there are no holes in the pumpkin, cut a few using a knife or apple corer. Put a tealight or similar sized candle inside and you will have a lovely pumpkin pie aroma for several hours.
If you have pumpkin remnants from any of these projects, be sure to put them in the compost. Halloween pumpkins keep on giving!
Try these recipes with your intact pumpkin:
Andrea's Natural Pumpkin Spice Latte Recipe
Easy Magic Pumpkin Muffins Recipe